Product Development and Design Support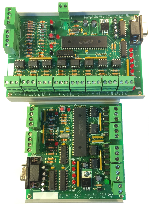 We'd like to be a part of your next product development. Maybe even jump in to give a boost to an on-going project. New product introduction is about more than just the design concept. While that's an important part, it's critical to consider other aspects of new product introduction early in the cycle. That's where experience becomes a big plus - you want designers that have launched products before and have learned (sometimes in painful detail) what can go wrong and can apply that experience to make your development go smoothly.
Developing new products can present resource challenges - especially for small businesses. Current Concept DesignWorks can provide capability, experience and insight to support you in your next design. We are a team of product developers with a range of industry experience. Our work in building systems led to our test and installed access control products. From this access control and fire alarm beginning, we have developed products, test equipment and firmware for power electronics, battery systems, consumer goods and computer peripherals.
Test Tools and Peripherals
for Access Control
Members of the design team at Current Concept DesignWorks spent some of their early careers working in the access control, fire alarm and building systems industry. Starting in 2003, our access control test products grew out of our experience from developing and testing products while working in that market.
Our first access control installed products were developed in 2006 to solve specific needs uncovered in our discussions with dealers and installers surrounding the use of card readers at locations with multiple control systems. This product line has continued to grow in answer to the needs of our customers.
As product developers, we're always interested in opportunities to customize our existing products or to develop new products that can solve problems you face in your system installation and integration. Don't hesitate to bring us your special installation needs - your input helps us roll out new products and we both win.